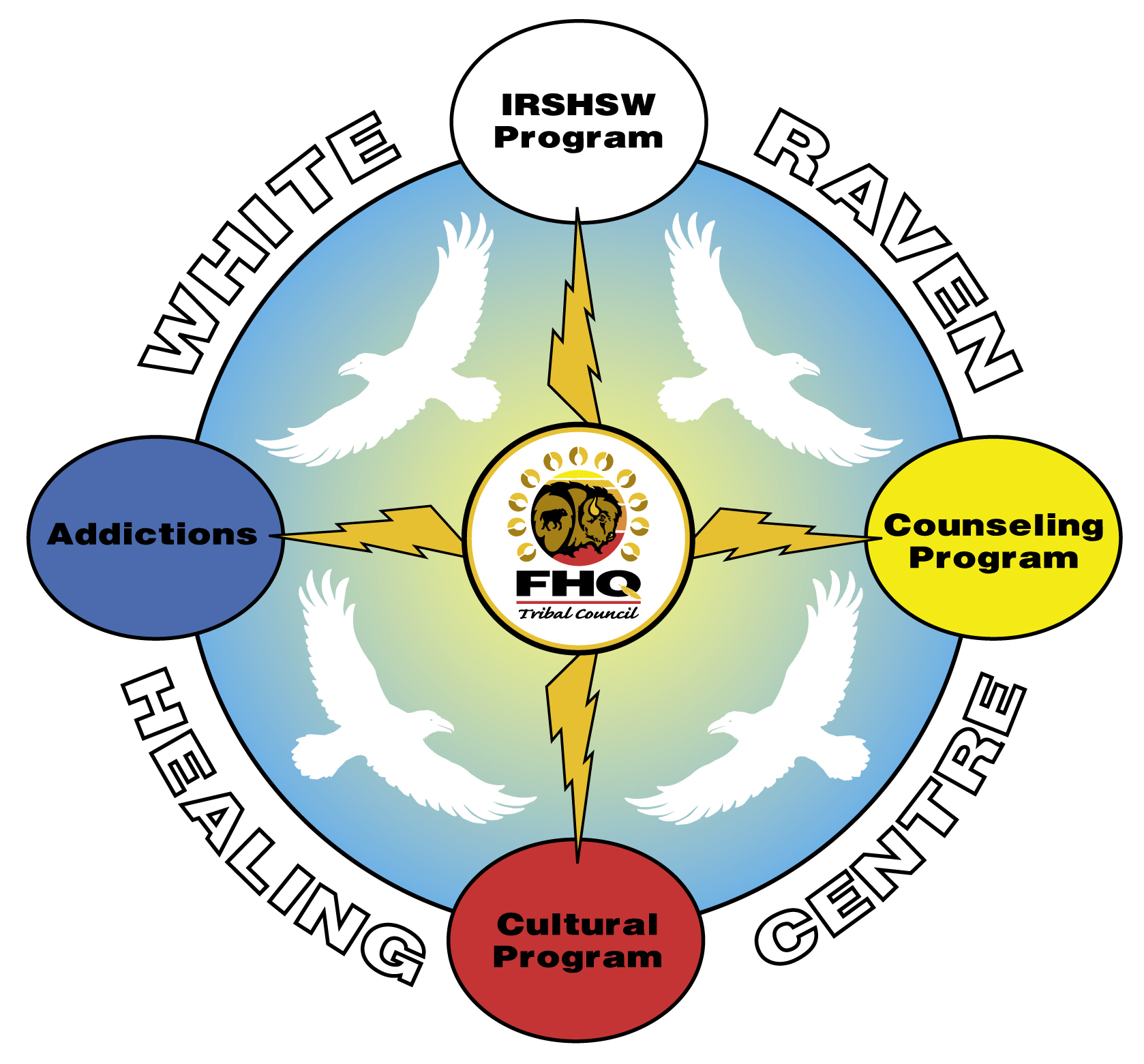 White Raven Healing Centre
THE VISION  of the White Raven Healing Centre is to provide client-centered mental health and addictions services that integrates the best of mainstream therapeutic techniques with traditional First Nation healing practices to provide a holistic approach to heal from past traumatic experiences and current psychological issues.
OUR MISSION  is to promote guiding principles that will encourage open communication with all individuals, families and communities.  Our primary focus is to provide traditional and conventional counselling designed to address the legacy of intergenerational impacts of residential schools and unresolved trauma and family violence.
THE WHITE RAVEN HEALING CENTRE was obtained through a traditional naming ceremony and was named by the Grandmother Spirit, White Raven, the  head Grandmother who sits in the West.
Indian residential School Resolution Health Support Workers Program
IRS workers provide emotional support for claimants who go through the IAP hearings
Cultural support services by Elders regarding IRS issues
Facilitate information workshops regarding IAP, Truth Reconciliation and Commemoration events
Referrals to White Raven Healing Centre's therapists/counsellors and programming
COUNSELLING PROGRAM
Holistic Counselling/Therapy
Trauma Treatment & Resolution for Residential School Survivors
Individual Counselling and Treatment Plans
Group Counselling
Family Counselling
Couples Counselling
Inner Child Recovery
Journey Work Processes
Anger Management
Suicide Intervention
Crisis Intervention (Critical Incident Stress Management)
Grief Counselling and Recovery
Sexual Abuse Counselling
Psychological Assessments by Registered Psychologist
Parenting (Traditional, Positive Parenting, etc.)
Domestic Violence
Gang Awareness
Social Responsibility Training, Youth Life Skills
ADDICTIONS
Outpatient/Outreach
Individual Counselling and Treatment Plans
Assessments – Gambling, Alcohol and Drugs
Individual/Group/Telephone Counselling
Education and Awareness Workshops
Treatment and Detox Referrals
Gambling Mobile Treatment- four times annually
Journey Process Work (Physical and Emotional)
Domestic Violence Intervention Training/Therapy
5 Seat Gambling Day Treatment Program Twice Annually
Cultural Holistic Program
In House Elders
Group/Individualized Counselling
Family and Relationship Building
Leisure and Recreation Activities
Gambling Counsellor Training – Accredited 30-60 hours
A.A and G.A. (Gamblers Anonymous Self Help Groups)
Domestic Violence Education and Therapeutic Programs
EVENING PROGRAMS
Programs begin at 7:00 p.m.
Healing Circles
Gamblers Anonymous
CULTURAL PROGRAM
Enables access to ceremonies and traditional support for First Nation in-patients and their families as well as First Nation community residents
Focuses on using the First Nation's healing practices by using our on-site Elders and Elders from the surrounding communities
Promotes sharing and understanding of First Nation Culture and philosophies
Individual counselling by on-site Elders
Traditional teachings by on-site Elders
Merges the belief and healing practices into a clinical setting
On-site Elders work as part of a team with the Mental Health Therapists and Addictions Workers in treatment plans
Sweat Lodge Ceremony building on site
Ceremony Room on site to accommodate ceremonies such as pipe ceremonies, cleansing ceremonies, feasts, night ceremonies and healing circles
Medicine Preparation and Storage Room on site
Traditional Medicine available on request
Weekly Co-ed Sweat Lodge Ceremonies by on site and/or local ceremonialists
Weekly Women's Sweat Lodge Ceremonies by Women Elders
Weekly Pipe Ceremonies and Cleansing Ceremonies by on-site Elders
Monthly, Night Ceremonies by local ceremonialists
Ceremonies coordinated by on-site Elders and Elder's Helper
For further information contact:
Phone:  1 (306) 332-2608
Fax: (306) 332-2681
Toll Free:  1-866-748-8922
Get in touch with us...
If you would like to contact the File Hills Qu'Appelle Tribal Council, please feel free to give us a call or send us an email.